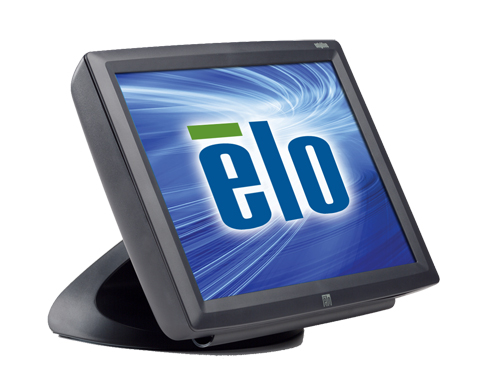 1529L Multifunction 15-inch Desktop Touchmonitor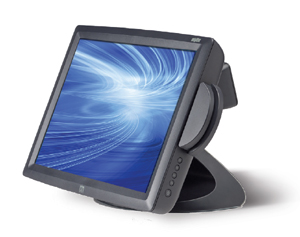 The Elo 1529L Touchmonitor expands the Elo Touch Solutions high profile family of reliable, easily integrated, multifunction touch solutions that meet the requirements of systems integrators, OEMs, and value-added resellers. The rugged 1529L includes POS options such as a three-track magnetic stripe reader (MSR) and a customer facing display.

The 1529L has been "designed for touch" from the ground up, with such features as a spill-resistant sealing, a stable tilt base that is removable or reversible for wall mounting, a VESA mounting option, connectivity incorporated within the monitor, reducing the number of power bricks and communication cables and side controls with lockout for public use. The Elo 1529L Touchmonitor offers a wide range of connectivity, including serial and USB, and a choice of AccuTouch five-wire resistive and IntelliTouch surface acoustic wave touch technologies.
Features: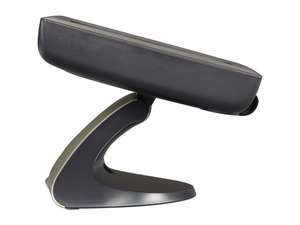 Economical and reliable

Up to 1024 x 768 resolution at 75Hz

Available with AccuTouch Five-Wire Resistive Technology (activated with fingernails, gloves, credit cards, or any stylus), IntelliTouch Surface Wave Technology for superior image quality (activated with finger or glove).

Optional ergonomic 3-stripe MSR Sealed touchscreen

Dual serial/USB interface

Removable stand and VESA mounting option

Mounting holes on stand bottom for tabletop security

Controls on the side rather than the front, plus lockout function for public use

Digital on-screen display (OSD)

Internal power supply

Worldwide agency approvals
Benefits:
Integrated peripherals in a compact design

Easy and efficient installation — fewer cables and power bricks

Choice of reliable Elo touch technologies for exceptional display quality

Broadest range of input options

Desktop, wall or VESA mounting
Applications
Point of Service

Point-of-Sale

Loyalty Systems

Kiosk Information Systems

Light Industrial

Gaming/Amusement

Home Control

Internet Access Points
IntelliTouch® Surface Acoustic Wave Touch Solutions
Elo first introduced Surface Acoustic Wave (SAW) touch technology in 1987. SAW touchscreen technology delivers superior image clarity, resolution, light transmission, and reliability because it utilizes clear glass that continues to work even if scratched. There are no coatings, plastic films or moving parts to wear out or be damaged. The active area of the touchscreen is resistant to chemicals such as acetone, toluene, methyl ethyl ketone, isopropyl alcohol, methyl alcohol, ethyl acetate, ammonia-based glass cleaners, gasoline, kerosene, and vinegar.

Elo offers IntelliTouch SAW technology with transactional single touch or interactive multi-touch capabilities. Micro-bezel or zero-bezel designs are offered along with fully tempered, heat or chemically strengthened glass for ruggedized applications. IntelliTouch technology has met all the Additional Qualification (AQ) testing requirements established by Microsoft for Windows 7 multi-touch touch gesture recognition.

IntelliTouch SAW is a cost-effective alternative to projected capacitive (PCAP) touch technology that offers better optical clarity and the same zero-bezel style with significantly smaller border width. Three axes of touch information are used to precisely discern two simultaneous touch locations anywhere on the screen. IntelliTouch solutions offer a simple bill of material, a less complex manufacturing and touchscreen integration process, and less capital investment than PCAP technologies.

Customization capabilities include logos, clear icons, border buttons, and other enhancements can be added during the design cycle. IntelliTouch can scale across a wide range of screen sizes, without performance degradation. The stable, drift-free operation of SAW touchscreen technology provides an accurate touch response measured on three axes using a finger, gloved hand, or passive stylus. Elo's sensitive touch response recognizes location and amount of pressure applied. Elo has tested IntelliTouch touchscreens to more than 50 million touches in one location without failure, using a stylus simulating a finger. The graphics quality and colors of HD resolution software applications are preserved based on the optical clarity of SAW clear glass touch technology.


Benefits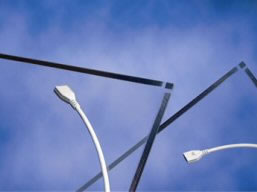 Completely flat touchscreen offers sleek, refined appearance

No bezel required for easy integration into touchmonitors, touch computers or other devices

Fast accurate, and stable touch performance

Tested to more than 50 million touches in one location without failure
Applications
Desktop touchmonitors and all-in-one touchcomputers.

Public environments such as hotel lobbies, office buildings, auto dealerships, bank branches, gaming casinos, healthcare waiting rooms, retail stores and train stations

Point-of-information kiosks

Vending and ticket sales

Gaming, lottery, and amusement

Interactive Digital Signage

Banking and financial transactions

Industrial control rooms
AccuTouch® Five Wire Resistive Touch Solutions
The Elo Touch Solutions AccuTouch touchscreens are based on proven five-wire resistive technology, the preferred solution for applications that demand reliability, input flexibility, and contamination resistance. AccuTouch touchscreens are available in bezel and zero-bezel designs, with proprietary Elo technology to deliver a touch response that is drift-free and accurate in high-use applications.

Elo AccuTouch delivers both X and Y measurements made on a stable rear glass layer where many other resistive touchscreen designs use a flexing plastic coversheet to measure only one axis. As a result, AccuTouch resistive touchscreens provide a longer product life, designed to withstand more than 35 million touches.

AccuTouch touchscreens can be sealed against contamination to support NEMA 4/4x/12 and IP65 standards. The zero-bezel design eliminates the need for a traditional front-bezel, achieving a smooth, seamless flat surface for a clean, modern look.

AccuTouch zero-bezel touchscreens use a flexible printed circuit cable that virtually eliminates the cable attachment bump that is typical on most resistive touchscreens and enables a smooth, flat integration. The screens work with standard Elo controller/chip solutions and drivers under a wide variety of operating systems, and are available in a set of standard products as well as customized designs.


Benefits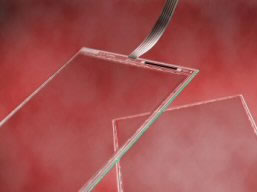 Zero-bezel configuration for seamless design to eliminate the traditional bezel that can collect dust and dirt.

4H pencil hardness resists scratching.

Flat cable attachments for seamless integration and customization capabilities.

No lamination of additional décor foil is required which helps to reduce costs and supply chain complexity.

Stable, drift-free operation.

Broad input flexibility.

Contamination resistance.

Accuracy in high-use applications.

Can be sealed to support NEMA 4/4x/12 and IP65 standards upon integration.
Applications
Point-of-sale (POS) Terminals

Voting Machines

Industrial Automation

Medical Equipment

Office Automation

Retail Automation

Pharmacy Automation