This wireless card for your will allow you to connect to the Internet quickly and easily ver your high-speed wireless network. No matter what operating system your is running this PCI Wireless WiFi Network Card will have you on the Internet in no time.

This new retail packaged PCI Wireless WiFi card for your includes both the short half height bracket for small form factor and desktop as well as the full height bracket for your tower.
The slot here is commonly called half height or low profile. These slots are just over 3 inches tall. They are found on smaller PCs. This card will work with this slot type. Don't worry about the width. They are all the same.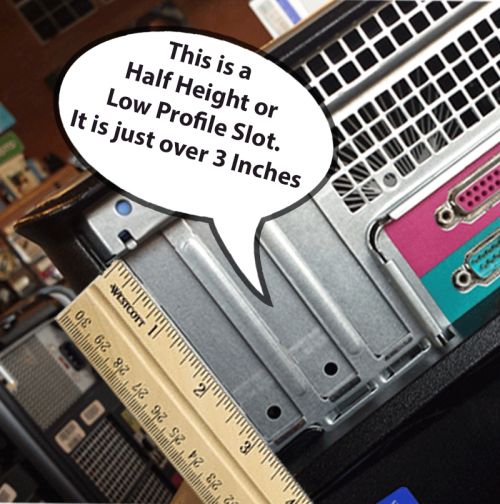 Works with Windows XP, Vista, 7, 8 and 10. Drivers are included but rarely needed. Installation is quick and easy. We are here to help.
The slot below is a full height slot. It is approximately 4.2 inches tall. This card will also work with this slot type.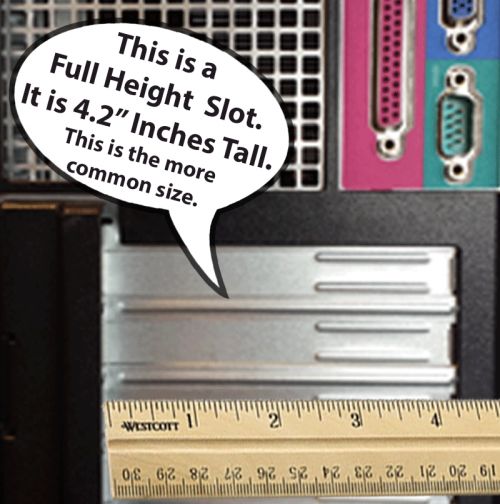 Includes PCI Card, Antenna, and (1) Half Height Bracket. Based on Wireless N technology, up to 3 times faster than 802.11g. Fully compatible with 802.11b/g/n network devices

Specifications:
Standards: IEEE 802.11b / g / n
Interface: 32 Bit PCI
Security: WPA2/WPA-PSK, WEP64/128-bit
I needed this to make my Dell Optiplex 760 wifi compatible and it works perfect. Exactly as described and top quality. Installation was seamless and wifi is indeed fast. Thank you guys, will be coming back for more parts.

With fear and trepidation, I opened the case on an OLD Dell w/Vista and could immediately see where the card slot for this card was. I was concerned because it was at the very bottom slot and fear the antenna would be conflicted by other cords and connections, but it worked great.

Everything went great, right from order, delivery, installation, and usage. Great product, works super. Don't know why I waited this long to upgrade from a USB style wireless adapter

Installed on a Dell XPS 420 which had no original wireless capability. Installed on Windows 10 OS without problems. Installation was simple and after installing drivers, etc. from disc it connected immediately. Shipment was fast and product is good.

Great Product, easy installation, nice antenna, worked right away

The wifi card was easy to install. When I was about to put the disk that had the drivers on it, I noticed that my computer was already online! It was like a plug-in-play. Super easy install!

Great service and great product. I would definitely use this company again!

Item works well, easy to install.

This wireless card is a perfect replacement for the original Dell card that lasted 8 years and then died. I searched the internet and this was the best price around. Prompt shipping, easy install and set up, connects to my Wi-Fi immediately and consistently, fast internet connection.