Dell Precision T7400 Workstations
The Dell Precision T7400 is a powerful, versatile full size tower workstation that's perfect for engineers, developers and anybody needing support for graphically intensive applications. The Precision T7400 is a dual socket workstation equipped with two 64-bit Intel Xeon 5400 sequence quad core processors, up to 128GB DDR2 667MHz fully buffered memory, up to four internal SATA, SSD or SAS hard drives, up to three optical drives, and a x16 PCIe slot with support for a wide array of high performance video cards for CAD, 3D rendering, modeling and other demanding applications. With 8 total USB ports (one internal), three each PCI-X and PCIe slots, the Precision T7400 has loads of expandability.
Specifications:
Dual (2) Intel Xeon E5405 Quad-Core 2.0GHz 12MB CPUs

16GB DDR2 PC2-5300 667MHz Fully Buffered Memory (upgradable to 128GB w/Dell Memory Riser Board)

Single 500GB Hard Drive

AMD HD7470 1GB Video Card (DVI and Display Port)


1x Parallel Port

On-Board SATA RAID Controller

DVD-ROM

Single Power Supply

Onboard Single Intel GbE NIC

Windows Vista Pro Pre-loaded

7x USB 2.0 Ports

2x Serial Ports
From Dell......
Ultimate Performance and Scalability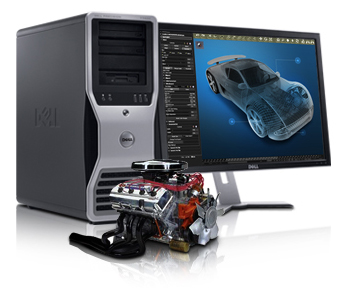 The Dell Precision T7400 is an ultra-high-performance workstation designed to maximize performance and scalability. The Dell Precision T7400 features the newest, and most powerful, multicore Intel Xeon processors, as well as advanced memory, graphics and RAID options to power through the most complex applications. Dell partners with leading independent software vendors (ISVs) to certify system and application compatibility so that your applications can run gracefully right out of the box.

Outstanding Graphics Performance
The graphics offerings on the Dell Precision T7400 can handle the demands of 2D and Open GL 3D operations for engineering, architecture or design applications with ease. The Dell Precision T7400 offers a wide range of high-performance options, including dual Native PCIe Gen 2 x16 slot support and up to 225 watts graphics card. Use the Dell Precision T7400 for Microsoft® Certified Application Developer (MCAD), visualization and digital content creation, configured with multiple monitors for ultimate efficiency.