Condition:
Docks are in new in box and complete. Includes dock, 45W power supply (square yellow tip), USB 3.0 cable, and VGA to DVI adapter. We have opened to verify contents only.
This item is available for pick-up at our Manchaca & Slaughter (South Austin) store, or via online order.
Compare with Lenovo Price: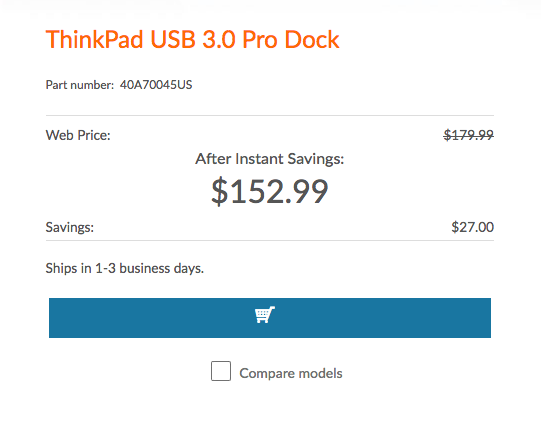 Description:
The ThinkPad USB 3.0 Pro Dock delivers a professional universal USB docking solution with fast USB 3.0 ports and digital video ports for quick and easy connection to all of the workspace peripherals you use every day. Dock requires AC power to operate.
ThinkPad USB3.0 Pro dock delivers a professional universal USB docking solution with fast USB 3.0 ports and video port for monitor attach

Digital video port supports WQHD output, max resolution up to 2560x1600

New horizontal form factor delivers stability in various use environments

Easy to be placed for space saving purpose

One always–on USB 3.0 port to charge your mobile devices
ThinkPad USB 3.0 Pro Dock

45 W power adapter (square tip)


Power cord

USB 3.0 Cable

DVI to VGA adapter

Warranty Poster
Detailed Specs Available Here:
https://www3.lenovo.com/us/en/ups/accessories-and-monitors/docking/universal-cable-docks-usb/ThinkPad-USB-3-0-Pro-Dock/p/40A70045US